A few years ago, while we still had our London shop, we bought a small lot of frames that had come from a house clearance. Amongst them was an unidentified 1950s-looking frame in primer. We had a lot going on at the time and it took a day or two properly to go through what we'd bought. When we did, it became clear this frame was a bit nicer than a half decent lightweight. We'd vaguely recognised the lugwork, and initially thought the frame might be French, largely from the profile and geometry of the forks, but the threads proved to be British, and as we removed a bit of primer from underside of the BB shell, the initials 'L.E.' for Les Ephgrave appeared.
At the time we'd never had an Ephgrave in the shop, but as part of the very top tier of manufacturers from the golden age of lightweights, it was impossible not to admire the craftsmanship of his frames. Moreover his small-scale operation and holistic approach to frame building had always struck a chord, and with his workshop having been less than a quarter of a mile from my house, I thought of his as my local shop, displaced in time.
A check of the lug patterns and frame number confirmed it as a 1953 No. 2 Ephgrave. The tape measure confirmed it as my size...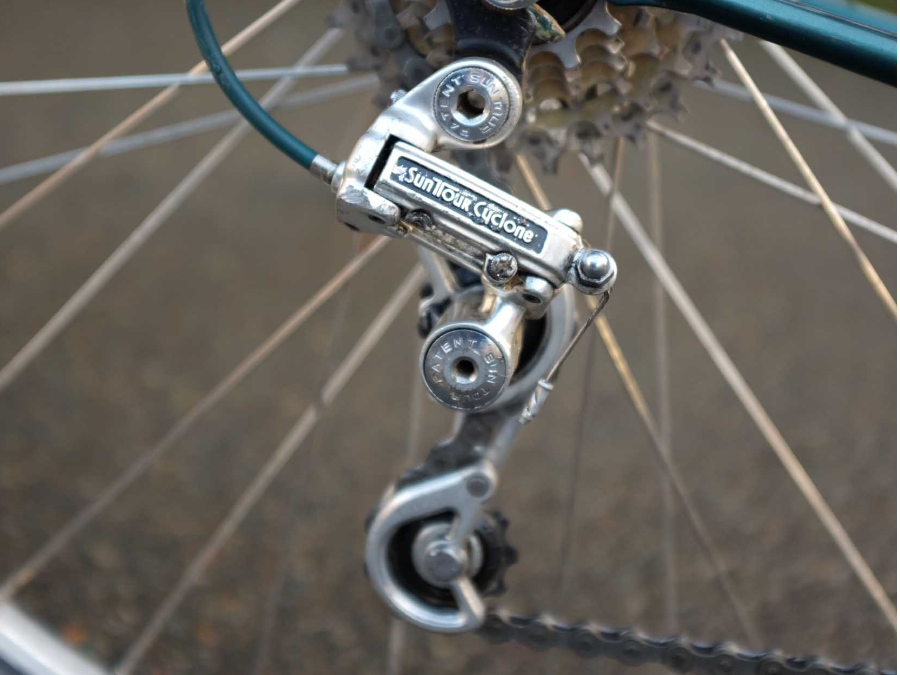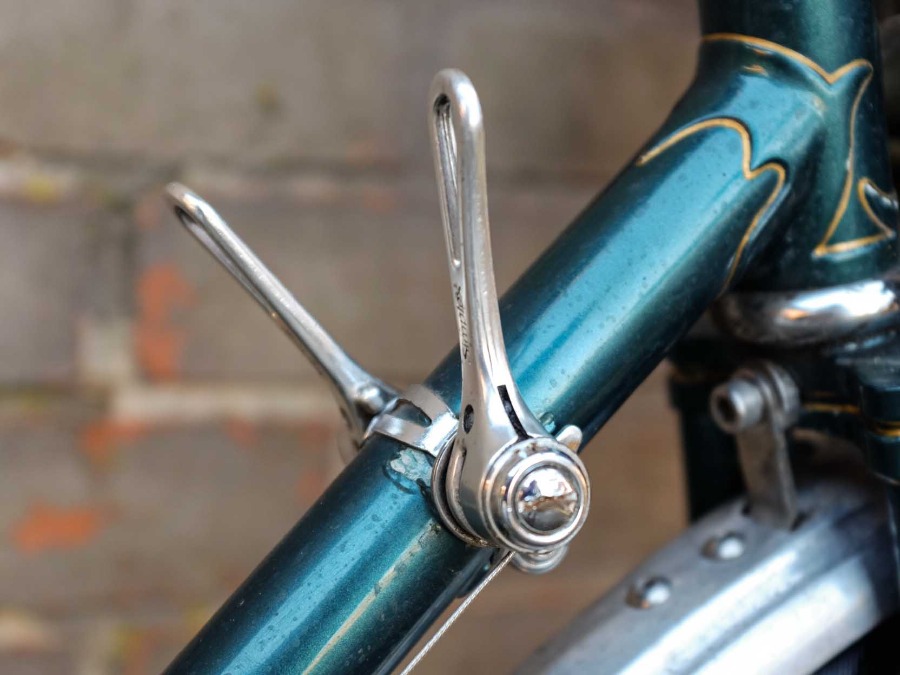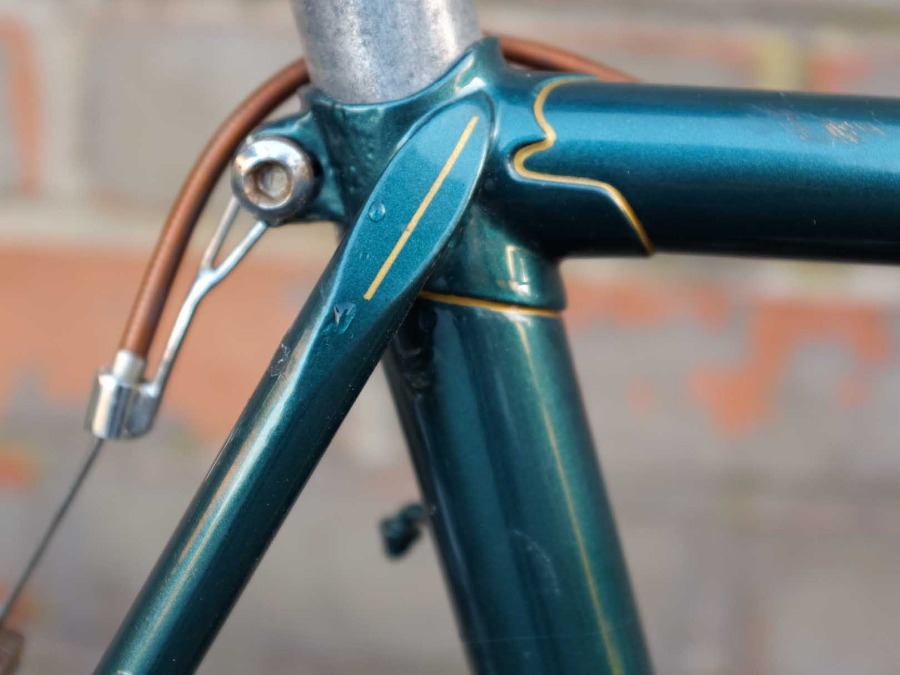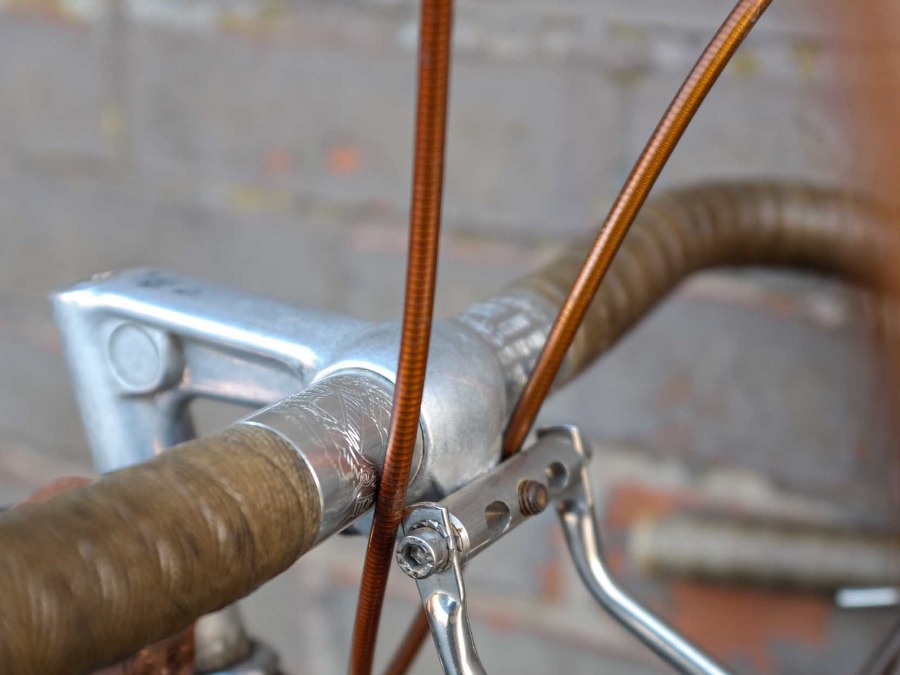 In the preceding months I'd pawed extensively and repeatedly over 'The Golden Age of Classic Lightweights' and read plenty of articles and blogs (Jan Heine and Bicycle Quarterly in particular have compiled an extensive and invaluable resource and inspiration) on French cycle-touring bikes and low-trail geometry. Consequently I'd been looking for a frame to do a 650B 'randonneuse'-style build for a little while - and more than just clearance for the wide tyres, I wanted front-end geometry suited to having weight biased towards that end.
Frames meeting that criteria are a little hard to come by - especially in the UK where saddlebags were always more popular than handlebar bags, and 1 1/4" was as wide as tyres went on lightweight bicycles.
The Ephgrave however was ideal - it could clear 42mm tyres on 650 wheels with mudguards, and the trail measurement was plenty lower than anything else I'd been considering. Having been built for 27" wheels, I knew the BB would end up a touch on the low side after the conversion, but on a touring bike that's no bad thing.
I stayed late in the shop that night and built it up in a very rough single-speed approximation (81mm drop brakes and all) of the sort of build I was imagining, and rode it home. Within about a quarter of a mile of the shop I was convinced the plan was sound.
Over the next few weeks I rode the bike a lot, put some gears, mudguards and luggage arrangements on it, and rode it on a '24hrs-to-Paris' trip with a few friends. By that point I knew more or less exactly how I wanted the bike set up, so when I got back I stripped it down and started making the modifications. A couple of extra cable stops to improve the routing; tabs to support the rack for a handlebar bag; most significantly the braze-ons for centrepulls that would give me the stopping power and modulation that was lacking on the current set up. Whilst it was being painted, I built a new set of wheels (Maxi-car hubs I'd been saving for a rainy day, and some lovely double-walled Grand Bois 650B rims), ordered a set of 38mm Compass/Rene Herse tyres for maximum comfort, grip and zip, and sourced and polished the other components I'd settled on - a 165mm Stronglight 49d crank to mitigate the low BB, with 28-38-48 rings for a touring gear range; 1st generation Suntour Cyclone derailleurs for reliability, weight, and looks (this wasn't to be a period build, but aesthetics were still all-important); a 13-28 freewheel; 50s GB superhood levers paired with 650B-specific Mafac Raid brakes; and then a smattering of Brooks, Nitto and Sturmey Archer to complete the thing.
I had it all back together by the middle of summer and rode it around for a couple of months finalising some details and generally having a ball, before loading it up and riding from Rome to Barcelona with Sarah and some other friends at the end of summer. I've ridden it extensively since and it's my go-to bike. Superbly comfortable, wonderful handling, fast on the road and incredibly capable off it. This bike does it all, and it's the one I turn to most frequently, and one that allows me to set out on one sort of ride, only to change my mind halfway and end up doing something completely different. I always ride it with the handlebar bag, and sometimes with 2 and 4 panniers as well. With 30KG of luggage and me on board it inevitably flexes a bit(!), but the only time I've really felt I was pushing it too far was on a black run at a trail centre I'd inadvertently strayed onto. I got off and walked a while. It wouldn't have been fair on a 65 year old.