Charlie contacted us with an unusual brief for his build, wanting a stripped-down thrashable road bike, quick and responsive but capable of some light gravel and a bit of lightweight touring, while running 80s Campag off a single ring. A delicate balance of simplicity and bling, capability and outright fun, calling for a quite specific and unusual blend of design choices.
The specified overall capabilities of the bike determined clearance for wider tyres would be mandatory - but the desired agility and request for 80s Campag were limiting factors in choosing a frame for the purpose. By the 1980s, bike frames largely tended to be low on tyre clearance and steep on angles, but until the mid 1970s, frames had tended to have more brake drop than those that Campagnolo had designed their 80s groupsets around. This gave us a window from which to find a frame for the build - with clearance for 30mm tyres, a brake drop of just under 50mm, with agile handling, and understated style.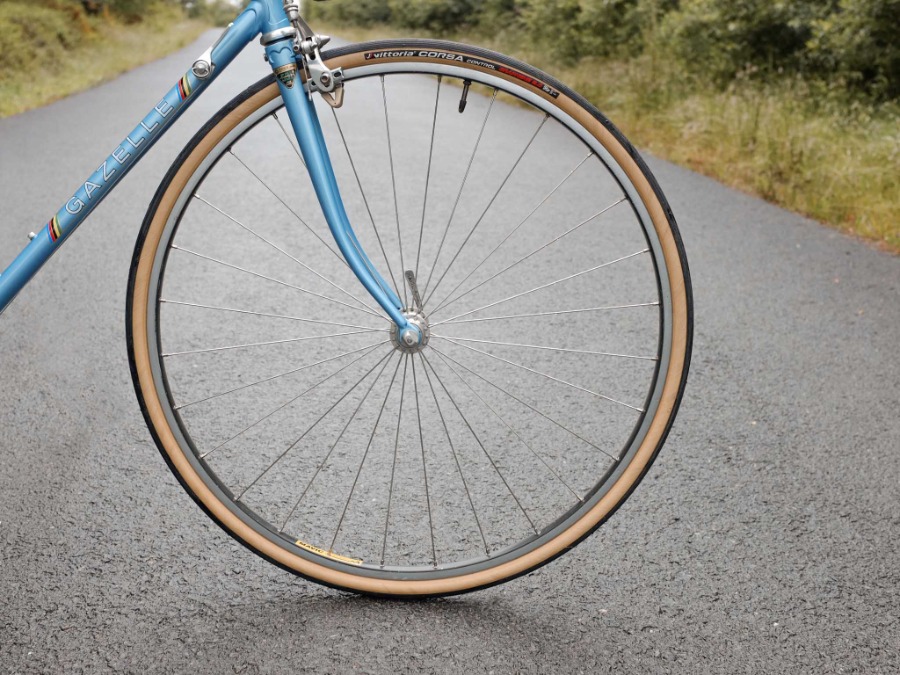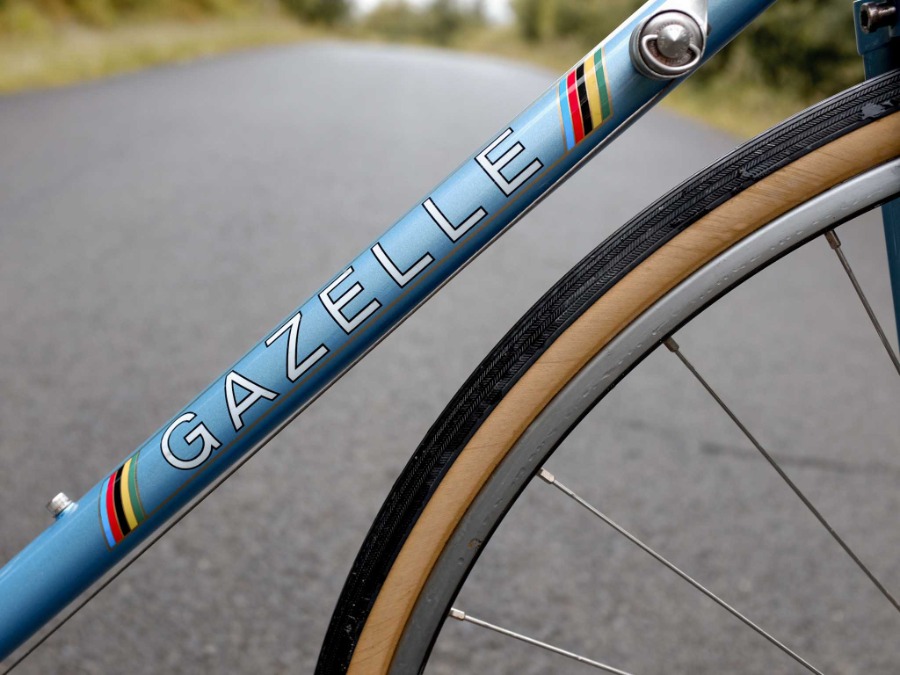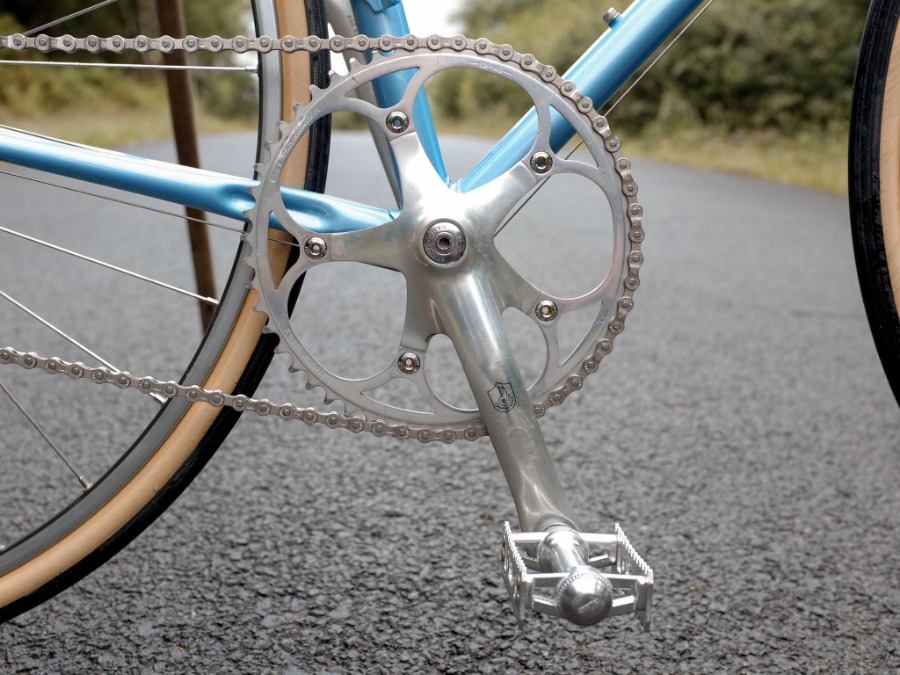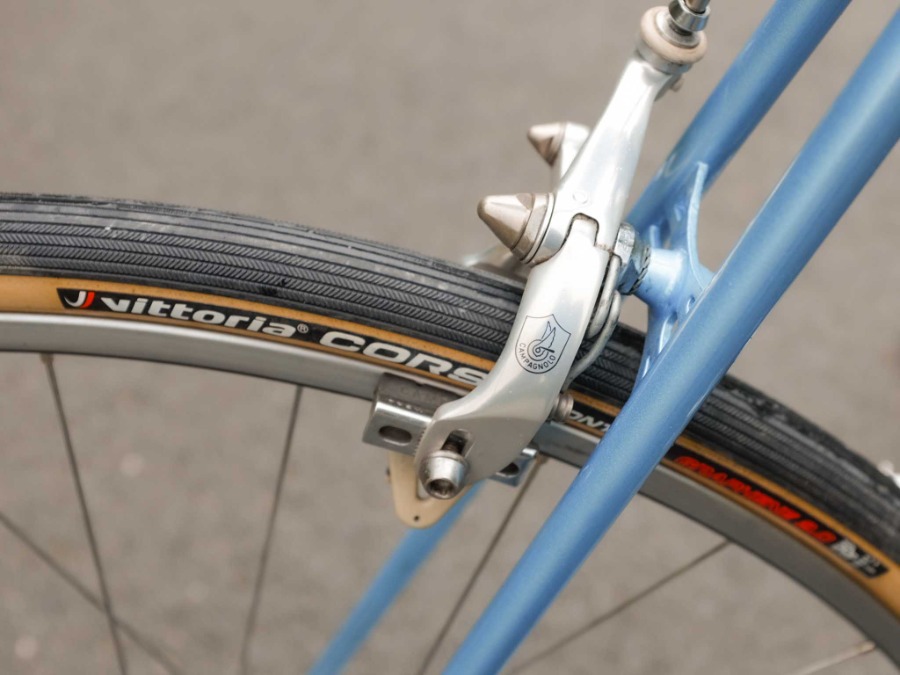 We'd had this early Champion Mondial frame in storage for some time, and as soon as the 30mm tyres were trialled in it we knew we had a winner. All the Champion Mondials are great bikes to ride, and other than the ultra-racy AA models, they can be capable and fun multi-purpose machines.
.A spanking new paint job from Argos cycles and reprinted waterslides from HLloyd gave the understated, slick finish we were after, and then we could set about the build. We built a set of NOS Mavic MA50 rims onto 28-hole Mavic 501 hubs (radial front) and shod them in 30mm Vittoria Corsa tyres for speed, grip, and phenomenal looks (grey rims and gum walls are right up our street). We fitted Nitto randonneuring bars to offer a little more control on the gravel, and comfort on long days out, and a period Rolls to sit on. 80s Campagnolo on a single ring was a non-negotiable part of the spec, so offering a gear range capable of blasting the downs and the flats, while offering an option for going uphill with luggage or on rougher surfaces looked a tough ask.
If ever there was a case for 1st gen. Campag Chorus then, this was it. The rear derailleur of that group offered 'A' and 'B' settings for the angle of the parallelogram and drop to the jockey wheel. In one guise, a racing derailleur with a small capacity and suitable for a racing block; in the other, an unusual wide-range beast, able to haul a chain all the way up to a 32T sprocket. Set up in the latter configuration, we fitted it with a 15-30T wide range block, and ran a 52T chainring, to meet the needs of the day.
A clean and deceptively simple build, now happily blasting the lanes and byways of Sussex.