We've long had a soft-spot for Bates; over and above other manufacturers more regularly celebrated, discussed or better known of the classic-lightweight period. Their secrets are not immediately revealed – you need to pay attention, to have patience, and to use your imagination. A fact that has become clearer the longer we have held stock of them.
The old adage that an expert makes a highly skilled activity look incredibly easy is in evidence here – compared to many British builders, Bates' frames are somehow understated and unshowy, despite their various innovations. To many enthusiasts, then, myself included, this understatement is itself a reason to pay attention. This idea will, perhaps, resonate especially with those who look on orchids with a specific revulsion. That of grotesque overabundance, sickly meta-ripeness. A sweet nausea rising from dredged gastric depths, brought on (up) by showiness, pompousness, smugness, self-contentment, overstatement, over exaggeration, and crass, classless, unintelligent aestheticism. I can draw a lay-line here, which some will recognise – from garden-centre orchids, through drilled, chromed, extended lugwork, to Christiano Ronaldo. Away from that lay-line, we steer a steady course….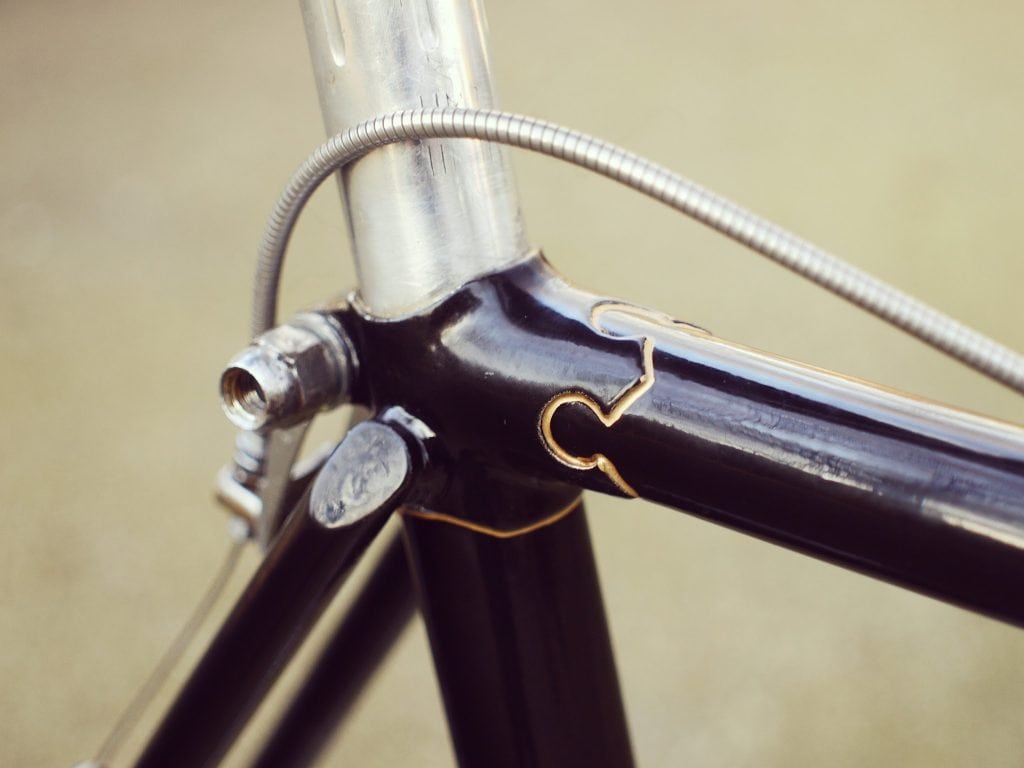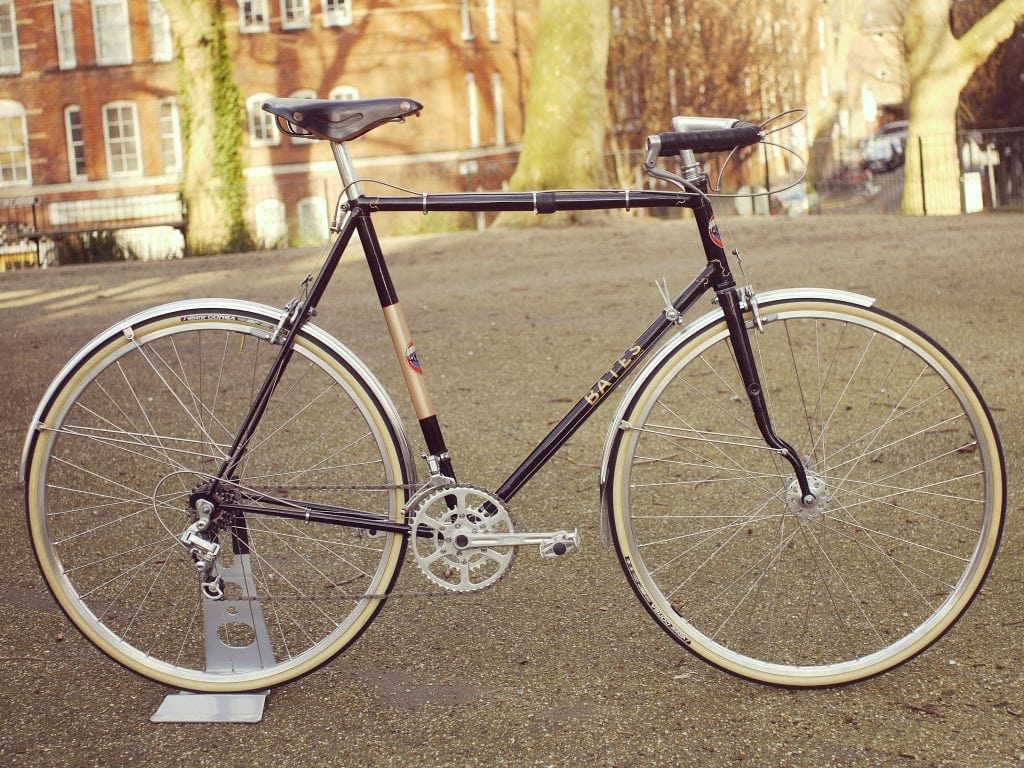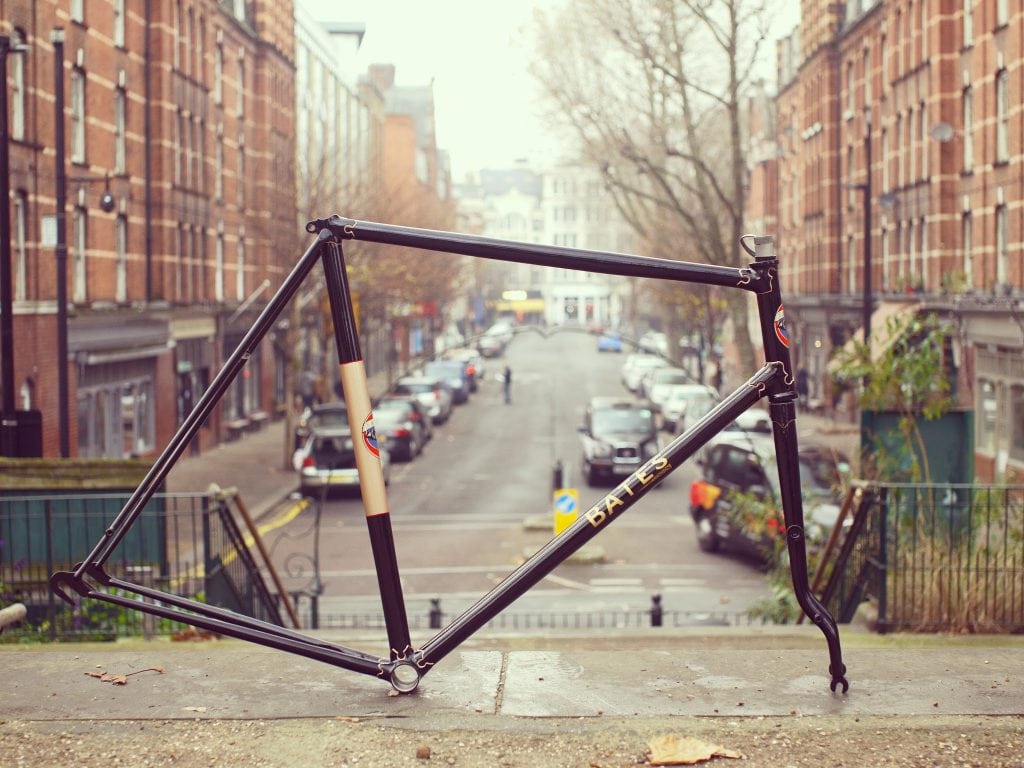 This particular model is a 1948 B.A.R. – the 'Best All Rounder' – Bates' top of the range frame from the late 1930s onwards. It was designed from the get-go exactly as it's name suggests – well capable of any task thrown in its direction. The steering geometry is steep and agile – the wheelbase correspondingly short and bottom bracket high: track-work was always a formed a significant part of its DNA. Its Cantiflex tubing – butted, as any good tubeset should be, but also externally tapered at each end, to maximise stiffness, add to its suitability on the track, while simultaneously rendering it more-than-usually capable of handling the extra weight necessary to undertake an extended tour.
This particular frame was in a sorry cosmetic condition when we took ownership of it, and although we do revere original paintwork here to an extent, we also love having the opportunity to design colourways. On this occasion, black with a gold panel and detailing was chosen (classic, but understatedly showy).
Which left us the build! Will Mitchell had asked as for something with strong, classic, looks, for the ride to be rapid and agile whilst remaining solid and dependable, and for the bike to be capable in a whole variety of situations – on a daily commute through the choked streets of the city, on longer weekend rides into the countryside, as well as being able to carry him into further-flung parts on summer tours. This B.A.R. was a natural fit, and ticked all the boxes for Will.
The build was relatively straight-forward in conception – Will knew the riding position he wanted and we worked closely with him to make sure it was right both aesthetically and functionally. Being able to build sympathetically on frames like this is one of the perks of what we do.
The groupset is a classic touring France-meets-Japan combination of Stronglight, Suntour and Mafac, with flourishes in the shape of the vintage inverse brake levers and associated cable routing, tried-and-tested contact points from Brooks and MKS, and refined modern practicality in the wonderful Vittoria Corsa G+ tyres (700 x 28) and folded aluminium Dia Compe mudguards.
A very fitting incarnation, for one of the most versatile bike frames around.